RENDEZ-VOUS IN TOKYO
GORO ITO + JAQUES MORELENBAUM
RENDEZ-VOUS IN TOKYO
GORO ITO + JAQUES MORELENBAUM
2014.11.19
Verve / Universal Music
ASIN: B00NJ1MTYC
1.Águas de Março* (A.C.Jobim)

2.Valsa de Euridice (Vinicius de Moraes)

3.Luminescense (Goro Ito)

4.Insensatez* (A.C.Jobim/Vinicius de Moraes)
5.Glashaus (Goro Ito)

6.Choro (Garoto) (A.C.Jobim)

7.Sabia* (A.C.Jobim/Chico Buarque de Holanda)

8.Daisy Chain (Goro Ito)

9.O Amor Em Paz** (A.C.Jobim/Vinicius de Moraes)

10.Passarim (A.C.Jobim)

11.Firu_haikai (Jaques Morelenbaum)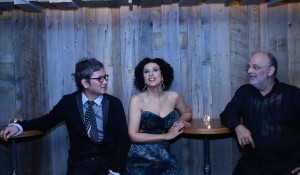 Being under the direct influence of Joao Gilberto, Goro Ito has been active as a guitarist, composer and producer. He has produced many albums that includes Tomoyo Hrada's late three albums. His recent work "Getz/Gilberto +50 " won the Brazil Disk Award 2013 in Japan.
He chose Jaques Morelenbaum, a renowned Brazilian cellist having great confidence of many musicians like Jobim, Veloso and Sakamoto, as a co-worker for the new album.
They have performed together on many albums and concerts in the past.
This time, they totally collaborated for the album, playing their original songs in addition to masterpieces of Jobim in 30th anniversary of his death.
Jaques' wife Paula Morelenbaum sings three songs for the album. In addition, their daughter Dora attended them for one track.
Two earnest musicians' collaboration without any compromise conveys the abundance of attraction of Brazilian music's legacy to listeners in present days.
GORO ITO (Classical Guitar)

JAQUES MORELENBAUM (Cello)
PAULA MORELENBAUM (Vocal*)
DORA MORELENBAUM (Vocal**)
EIICHI SAWADO (Piano)

KEITA OGAWA (Drums & Percussions)
Art Direction & Design KIYOSHI TAKAMI
Arranged by
GORO ITO - all the tracks except 11
JAQUES MORELENBAUM – 11
Produced by GORO ITO